Pantone introduces new Goe System
JimD (2626 pencils) | Fri, 2007-09-07 12:44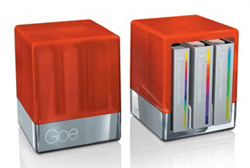 Only a few weeks after the announcement that it had been acquired for $180 million by X-Rite, the color mavens at Pantone have announced a major update to the industry-standard Pantone Matching System, the Pantone Goe System.
The Goe System was created to offer designers and printers a simpler, more complete color process from start to finish. The Goe System offers nearly double the amount of spot colors as the current PMS system, as well as software similar to Adobe Kuler to help you find the right color combinations. You can read more about the [b][url=http://www.macworld.com/weblogs/creative/2007/09/pantone-goe-system/index.php]Pantone Goe System here[/url].[/b]
—
-----------
Visit The Graphic Mac for graphics and Mac OS tips, reviews, tutorials and discussion.
Commenting on this Blog entry is closed.